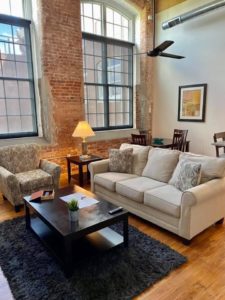 Whether you are traveling for work or displaced from your home, finding the best temporary housing option is the number one goal. There are many options on the market like extended stay hotels or short-term leases. We are here to tell you why short-term leases are the best bang for your buck.
Extended Stays
Pros:
Extended stays hotels are convenient to book within a short period of time depending on availability at the hotel.
Extended stays are usually located right off the highway with easy access to airports and transportation shuttles.
Extended stays, depending on budget, have all basic necessities and the hotels usually include Wi-Fi, fitness center, laundry service, pool, and housekeeping. While the housekeeper usually won't visit everyday on extended stays, they will visit a few times a week to tidy up the space and change sheets.
Cons:
Extended stays are hotel rooms which mean thin walls. All you can do is hope your neighbor doesn't blare music or keep the TV on until late at night.
Extended stays provide a hotel feel which may not make it feel comfortable or at home. You can not personalize your hotel room with decorations and make changes to the furniture.
With the location of extended stay hotels usually being off the highway, it may limit convenience to grocery stores and restaurant.
Short-term Leases
Pros:
Short-term leased apartments can include furniture rentals which allow you to customize the space and make it feel like home. Whether it be for a month or 9 months, you can decorate how you please. With furniture rentals from FSI, movers will deliver and set up furniture and then pick it up with the lease is over.
Apartments are typically a larger space than a hotel room. Even 1-bedroom apartments allow for separate rooms between the kitchen/living space and the bedroom.
Short-term leases still offer all the amenities the apartment complex has. You have access to the fitness center, pools, and all community facilities. You will feel a sense of community surrounded by families and adults.
Most apartment complexes allow for pets to stay and if you were planning on living with a roommate, this provides all the space you need. Leases can provide between 1-3 bedrooms.
Short-term leases can be much cheaper with straight forward pricing and no hidden fees.
Cons:
Since short-term leases are provided in apartments, there will not be any housekeeping services to clean the space. Cleaning services may be offered but would be an additional fee.
Short-term leases typically require a minimum stay of 30 days.
Short-term leases require setting up an account with an account executive and committing to a lease for a certain amount of time. There is more planning that goes into play when it comes to leases.
While both are great options, short-term leases provide a sense of home away from home for the duration of your stay. Choose comfort with a comfortable price. ACRS can help with setting up leases and providing answers to any questions. Let our account executives do the work for you! Call today for more information.